Congratulations to Ashton Silvers, Emily Silvers,    Brytin Edwards, Sydney Compton, Clark Fletcher, Lina Miller, Matthew Laws, and Mary Emma Regen. They participated in the Upper Area Junior Clinic.

Congratulations to Ben Merritt and Emily Tapp, and Matthew Hill. They participated in All-East Senior Clinic in Gatlinburg. They represented UCHS well.
 
The following students participated in the the ETSU High School Honor Band;vAtom Garcia, Dillon Foster,  Allen Hughes, Emily Tapp, Alysha Edwards, Chloe Foster, Teresa Ramirez, and Ben Merritt.
Next Band Boosters Meeting                                          Thursday, March 1st @ 6:00pm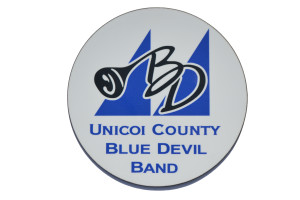 Show your support everywhere you go.
To receive informational text messages from Mrs. Hurter,  parents text the code @uchsband1 to the number 81010,  students text the code @e9e59 to the number 81010.