Show your support for the Blue Devil Band by visiting the band online store. Go here to visit the 

Blue Devil Band Online Store
Attention Band Alumni !!!!
Get those instruments out! Get those chops in shape! Alumni to play the National Anthem, fight song and cheers on the field, and in the stands Friday, Oct. 13th.
This event will kick off with an Alumni Supper at the UCHS Cafeteria on Thursday, Oct. 12th @ 6:00pm. Supper to include spaghetti, salad, bread, desert and drink. Cost $7.00 per person. Children 5 and under eat free.
Everyone in the community is encouraged to attend the Alumni Supper.
Click on Alumni Band in the menu bar to register.
Next Booster Meeting: August 3rd, 6:00pm UCHS Band Room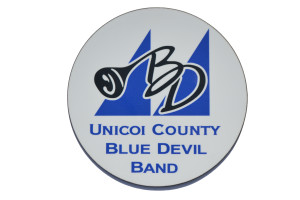 Order your band magnet.                                                                                      Show your support everywhere you go.
To receive informational text messages from Mrs. Hurter,  parents text the code @uchsband1 to the number 81010,  students text the code @e9e59 to the number 81010.